Important Steps to Take When Your Business Is Being Sued
Sept. 14, 2023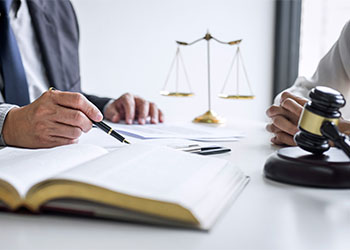 Running a business opens up the owner or owners to civil liabilities. If a customer slips and is injured on your premises, you could be liable for personal injury. If you fail to deliver on a contractual arrangement, you could find yourself in court over breach of contract. Employees too may even sue you for violations of their rights, perhaps for discrimination or retaliation.
Some of these instances may be covered by a commercial liability insurance policy you've purchased, but these policies have payout caps, and the case may still end up in court if not settled beforehand. If you are being sued, what should you do?
If your business is being sued in or around Dayton, Ohio, contact our team at Duwel Law. Our business and employment law attorneys are knowledgeable and experienced and can develop a strong strategy to reach your best possible result. Our firm proudly serves clients across Montgomery County, Miami County, Greene County, Darke County, and Warren County.
Common Business Lawsuits
Premises liability lawsuits involving personal injury or property damage are common, as are civil actions for breach of contract. Employees too have grievances they want corrected. Reputational damage to another person or business through your advertising or other communications online or otherwise can also bring about civil litigation.
A civil legal action is a lawsuit about disputes between individuals and/or corporations, addressing any of the following issues:
Terms of contracts

Claims for injuries

Claims for property or reputations
Torts are civil wrongs that result in harm or loss to others.
In Ohio, a third party can initiate a civil lawsuit by filing a complaint with the court. For certain claims totaling $6,000 or less, your case will likely be processed through Small Claims Court.
Generally, a lawsuit must be filed within six years of the tort or breach of contract.
Important Steps to Take When Being Sued
When you've been confronted with a lawsuit, make sure you follow the following steps:
1. Take Note of Important Deadlines
The first step is to take note of the legal requirement that you reply to the lawsuit within 28 days. If you fail to reply in that timeframe, you will be deemed to have admitted that the claim is true. With this fact in mind, you should contact a business lawyer immediately to compose your response.
2. Hire an Attorney
Under no circumstances should you try to contact the plaintiff yourself. Also, be sure to avoid making any public statements. Your statements may only add fuel to the fire, especially if you are seen as defaming or slandering the plaintiff. Let your attorney deal with any statements or communications that need to be made.
3. Cognizant of What You Do and Say
You also need to be open and honest with your representative. Any communications you make or information you share are protected by attorney-client confidentiality. Your attorney will need to know all the facts to decide the best steps to take. Most lawsuits are settled outside of the courtroom through negotiations or perhaps mediation or arbitration, but your legal counsel can help you decide on which course of action to pursue.
4. Gather Applicable Records and Documentation
If it's a personal injury lawsuit, your insurance company will likely try to make a settlement offer, but this does not absolve you of the requirement to respond to the lawsuit within 20 days (unless a settlement is reached almost immediately).
5. Investigate the Claim Internally
Leading up to trial, the plaintiff's lawyer will file a "Statement of Claim" with the court, and your lawyer will respond with a "Statement of Defense." This is why you need to provide your attorney with all the details available. After this exchange of statements, there will commence what is known as the "discovery" stage, when both parties will exchange documents and evidence. Relevant individuals will then be asked to answer questions under oath.
Even as the discovery phase continues, or even after it concludes, there is still the possibility of a settlement, often through a mediation session. If there is no settlement, then there will be a pre-trial meeting prior to the trial itself.
Thoughtful and Focused Legal Counsel
If your business is being sued, time is of the essence. You have a small window of time before the plaintiff can seek a default judgment. You need to seek legal counsel immediately and start building your defense strategy to achieve the best result possible.
If you're in or near Dayton, Ohio, turn to Duwel Law. We'll be there for you from the moment your business has been served notice of a pending lawsuit. Our attorneys will assess the case and work with you on a detailed plan, so you and your business can move forward knowing everything is being handled in a thoughtful and focused manner.