Employee Leave Laws Rights and Obligations
May 24, 2023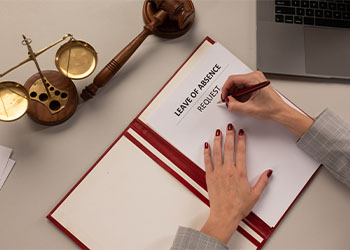 If you're a business owner or HR professional, you're going to have to deal with employee leave at some point. That can get a bit complicated. Employers must ensure compliance with federal and state leave laws, including providing proper health benefits to employees. While holding a position for them isn't always necessary, terminating them isn't usually a possibility. There are, of course, some exceptions.
Reach out to our attorneys at Duwel Law to learn more about an employer's rights under employee leave laws—as well as the rights of employees. We are proud to serve Dayton and surrounding communities in Ohio, including Montgomery County, Miami County, Greene County, Darke County, and Warren County. Set up a consultation with us today.
Laws That Govern Employee Leave in the US
In these matters, it's important to make a particular distinction. There's a difference between paid time off (PTO) and leaves of absence. While PTO is used for situations like vacations, leaves of absence generally involve some kind of medical or family emergency. We'll talk about the latter here.
One of the elements that makes employment law in the US so complex is that it's not just dictated by one piece of legislation. Instead, it's governed by a patchwork of federal and state regulations including:
Family and Medical Leave Act (FMLA): This is one of the main federal laws covering employee leave. The FMLA grants certain workers the right to take three- or six-month terms of leave in a one-year period when they need to care for a newborn or sick or injured family member.

Americans with Disabilities Act (ADA): This federal law requires employers to give employees certain accommodations for physical or mental impairments. Work leave is one of those accommodations.

Uniformed Services Employment and Reemployment Rights Act (USERRA): This rule protects military personnel who must leave their jobs on deployment, like members of the National Guard.

State Leave Laws: In addition to the federal laws that establish employee leave, some state laws dictate employee leave.
Terminating an Employee on Leave: Can Companies Do It?
Generally, you can't terminate an employee who's taking leave if it falls under one of the rules mentioned above. However, there are some circumstances where laws permit terminating an employee on leave. For example, family or medical leave does not protect an employee from situations like:
Business Restructuring: If a company needs to terminate an entire department, for example, an employee isn't exempt just because they're on leave.

Downsizing: If a company must lay off large amounts of employees to survive, an employee may not be exempt if they're on leave.

With-Cause Termination: If an employer has a reason to fire the worker—like poor performance—the on-leave employee is most likely not exempt.
Employers should be cautious about attempting to terminate workers on approved leave. If your company plans to do this, it's a good idea to consult an employment law attorney right away.
Does Requested Leave Always Need to Be Granted?
If an employee's leave of absence falls under any of the circumstances outlined by the rules mentioned above, an employer must grant it to them. If you have any questions about the validity of an employee's leave request, consult an employment lawyer who can walk you through your rights and responsibilities.
Maintaining Health Benefits for An Employee on Leave
According to the FMLA, an employer must continue to provide a worker with their normal health benefits while they're on leave. In addition, if benefits or plans change while an employee is on leave, the employer must notify them and give them the opportunity to change plans if they wish.
Holding a Position Open for an Employee on Leave
If you're an employee who has returned to work after being on a leave of absence, you may not have the same exact job as you did before you left. Employment law states that an employer may reassign a returning employee to a new position, as long as it's an equivalent role to their last job.
Key Employee Exemptions
There may be some exceptions to the above rule. For example, salaried employees who are in the top 10% of a company's earners might be considered "key employees." These employees may be exempt from certain employment laws.
Detailed & Dedicated Legal Counsel
Whether you're an employer or an employee, navigating the world of labor law isn't easy. Often, the best choice is to seek out professional guidance. That's where our office can help. We've spent two generations helping clients throughout Montgomery County, Miami County, Greene County, Darke County, and Warren County with their employment law cases. We'll listen to your story, look into the facts surrounding your case, and advise you on how to proceed. Contact us to schedule a consultation.